Romantic Restaurant in Cambridge
The Folio Bar & Kitchen
Join us for a romantic and unforgettable fine dining experience at The Folio Bar & Kitchen. The warm and inviting atmosphere of our restaurant creates a perfect setting for a memorable dinner. The dim lighting, contemporary decor, and soothing music create a cosy and intimate environment that makes you feel at ease. Our skilled and passionate chefs prepare delicious and inventive food that is guaranteed to tantalise your taste buds. We always strive to use fresh and locally grown seasonal produce, as well as other high-quality ingredients to create a truly exceptionally tasting menu for our guests. Whether you are here for an anniversary celebration, a birthday dinner or simply to have a romantic meal with your loved one, we guarantee that dining with us will be one of a kind experience.
Gnocchi & Burrata
Sauteed gnocchi in roasted tomato sauce, with a side of sweet peppers, rocket, fresh burrata, and aged balsamic reduction.
Trout
Pan-fried trout, and citrus fennel, with a side of artichoke, butter bean and chorizo ragout.
Lamb
Lamb rack or shoulder croquette marinated in mustard and herbs, with a side of charred spiced aubergine
The Fellows Beef Burger
Aberdeen Angus beef burger, topped with tangy cheddar, fresh and crispy gem lettuce, tomato, and tasty truffle mayonnaise, all in a soft pretzel bun.
The Folio Grill Selection
8 oz Himalayan salt-aged Fillet steak
10 oz Aged Rib eye steak
10 oz Ale and mustard marinated Pork cutlet
All served with fries, vine-on tomatoes & portobello mushroom
Charming dining ambience
Discover a haven of romance nestled in the heart of Cambridge – The Folio Bar & Kitchen. Alongside the tasty dishes, our restaurant offers an amorous and intimate setting, making it one of the most romantic restaurants in Cambridge. Immerse yourself in an enchanting atmosphere where every moment becomes a memory to cherish. Embraced by the luxurious ambience, surrounded by unique and meaningful artwork couples can easily socialise, celebrate or simply enjoy each other's company while bonding over the delicious food and drinks. Whether you're celebrating a special occasion or looking to create new memories together, our restaurant promises a truly unforgettable romantic dining experience.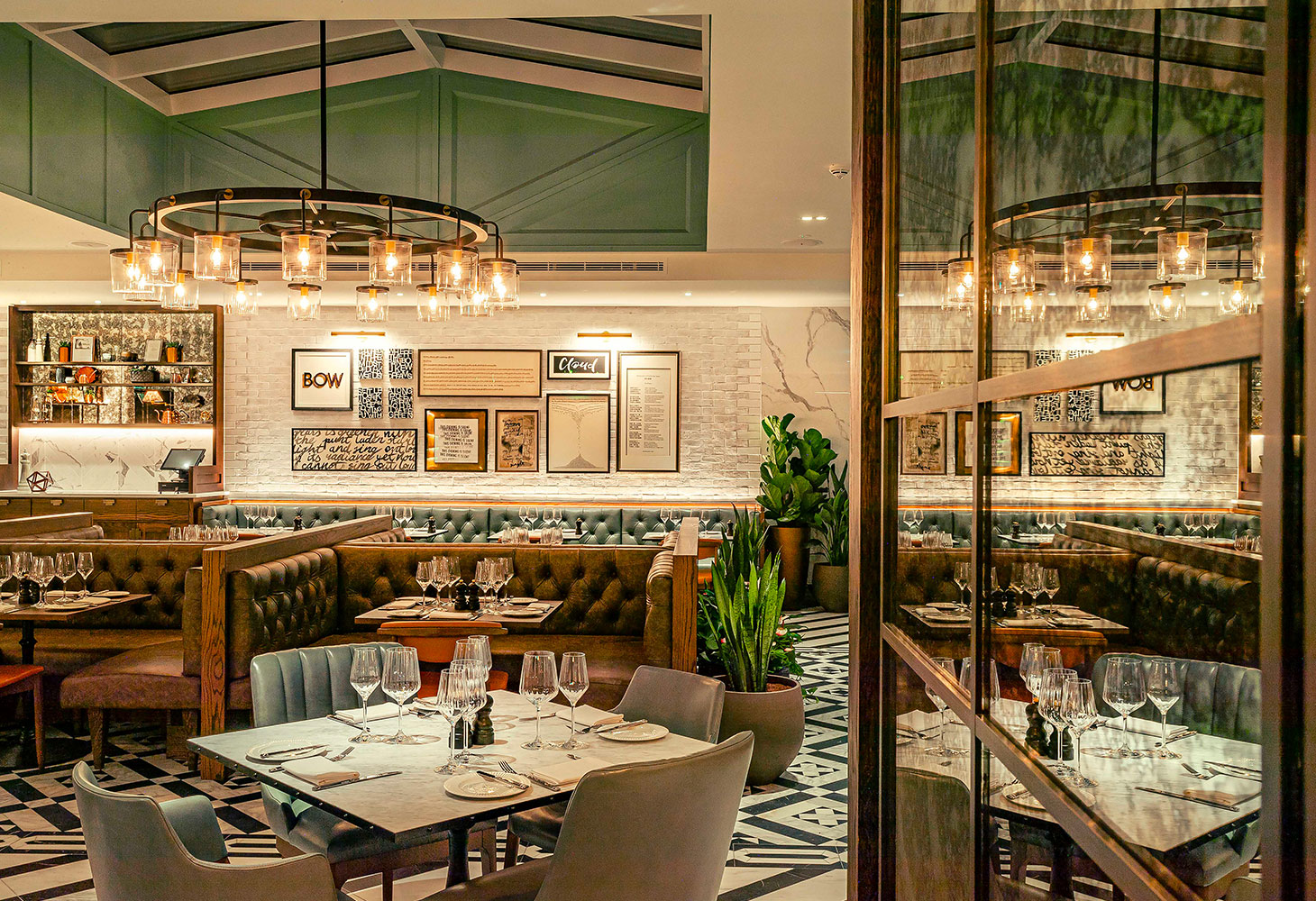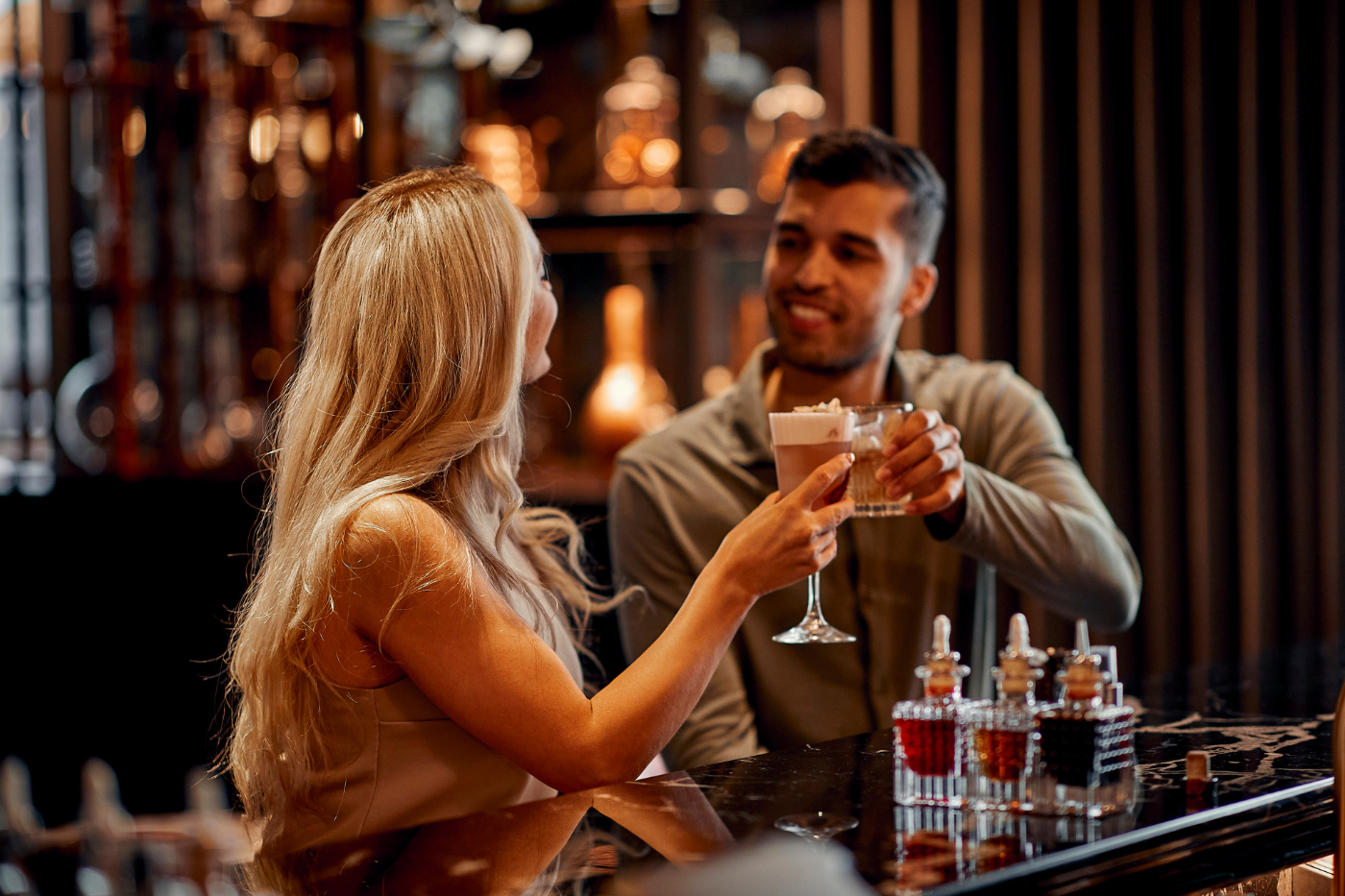 Romantic Cambridge bar
After an exquisite meal, retreat to our romantic bar – an oasis of serenity where couples can unwind, sip on signature handcrafted cocktails, and continue their heart-to-heart conversations. Our skilled mixologists are dedicated to creating drinks that are true conversation starters. From timeless spirits, and signature cocktails, all the way to exceptional wines. With such a wide selection of delectable drinks available, there is something to suit every palate.
Join us at The Folio Bar & Kitchen for a romantic evening of celebrations and creating new memories. Let the soothing ambience of our bar envelop you as you clink glasses and toast to your special moments together.
Culinary delights for a romantic evening
The Folio Bar & Kitchen is known for its innovative and diverse cuisine which draws inspiration from various methods of cooking both locally and from around the world. Such dinner mains as The Fellows Beef Burger, cooked using the quality Aberdeen Angus beef, topped with tangy cheddar, fresh lettuce, tomato and is brought up a notch by the rich and earthy truffle mayonnaise and many other delicious classics are available on our menu. On top of that, delicious mains from The Folio's grill are made with the freshest ingredients, as well as incredibly high-quality standards, that our chefs have set for everything they masterfully create in the kitchen.
From the starters to the desserts, the menu is designed to satisfy all palates without compromising quality. Whether you want to impress your date, celebrate a milestone, or simply enjoy a quality meal with your loved one, Folio Bar & Kitchen is the perfect place to spend a romantic evening together, indulge in culinary delights and create lasting memories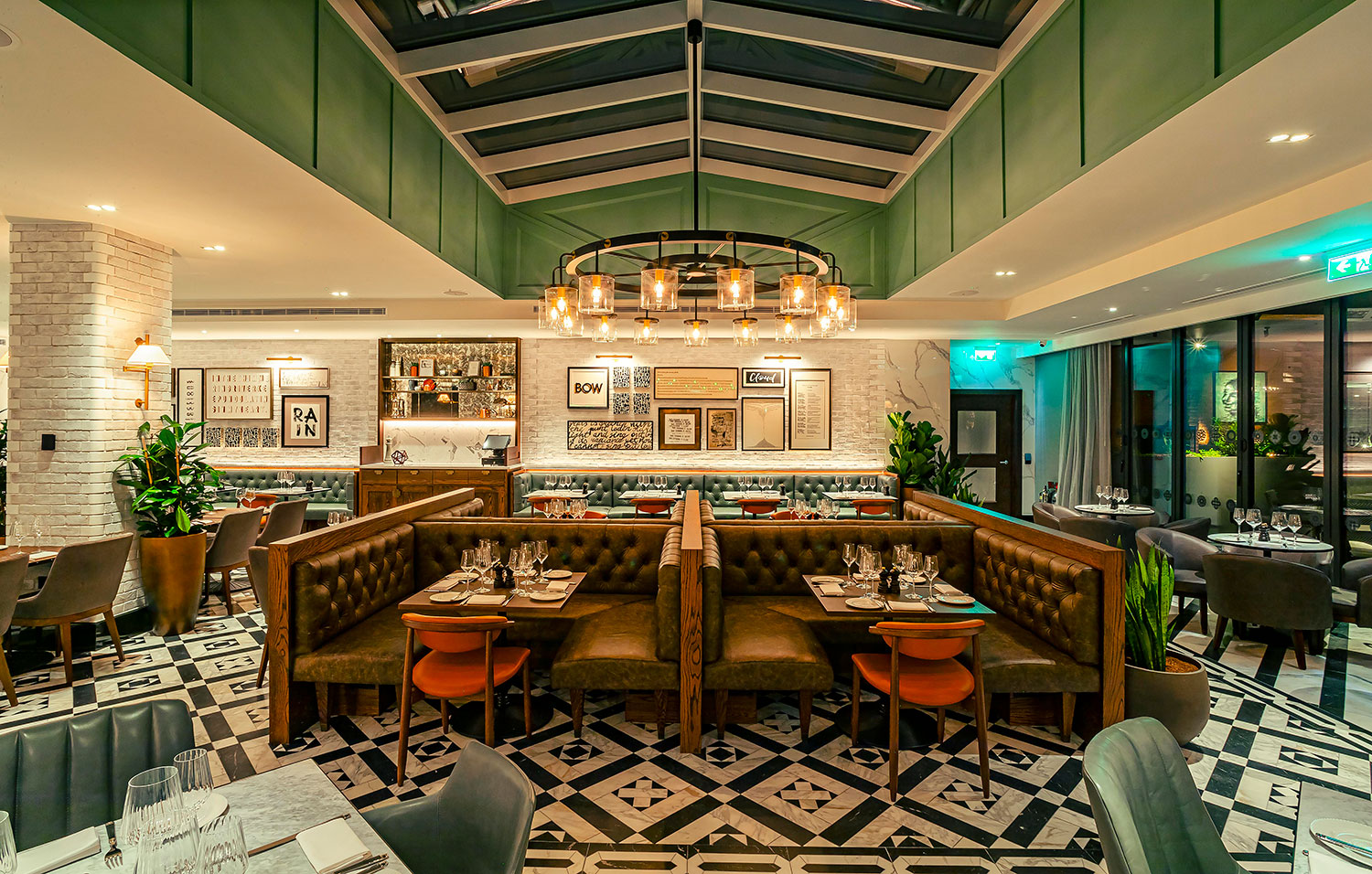 Romantic restaurant in Cambridge
Tucked away in a tranquil location, away from the hustle and bustle of the city, The Folio Bar & Kitchen creates the perfect romantic and intimate atmosphere, all while still being just a short walk away from the heart of Cambridge. With exceptional food and a cosy ambience, it truly is the perfect place for couples to enjoy a romantic date, celebrate an anniversary, birthday or just simply spend time together indulging in innovative culinary creations and drinks. Based on Milton Road, our romantic fine-dining restaurant provides easy access to the city centre and offers its own on-site parking, with EV chargers and Blue Badge spaces available. This way our guests don't need to worry about finding a secure place for their car and can truly immerse themselves in their romantic evening.
Enjoy a romantic date with our events
At The Folio Bar & Kitchen, we regularly organise exciting and creative opportunities for our guests to indulge in new drinks and experience one-of-a-kind culinary delights. If you are on the lookout for new romantic date ideas, our wine and cheese tastings, as well as the popular Cocktails & Canvas events offer couples a truly romantic way to spend their time together. Enjoy signature cocktails, and try out new wines and cheeses sourced from all over the world with The Folio Bar & Kitchen.
We encourage our guests to get creative, all while getting to enjoy a variety of wines or masterfully crafted drinks made by our bar team. At our romantic Cambridge restaurant, we organise a variety of regular events, as well as ones to mark special celebrations. To stay up to date with the events we have prepared for the month, view our event list.