Fine dining
at The Folio Bar & Kitchen
About the fine dining experience

Join us for a unique and unforgettable fine dining experience at The Folio Bar & Kitchen. Our bright dining space shows off the balance of the contemporary and heritage, which represents the city of Cambridge perfectly. Our chefs will be sure to captivate you with their home-cooked classics full of unexpected and inspiring twists. Locally grown and seasonal produce is used wherever possible, to provide the best quality to our guests. And with many plant-based experiments available, we are sure everyone will be able to indulge in our fine dining experience.
Cocktail bar in Cambridge
Raise a glass to Cambridge and unwind at our charming bar at the Folio Bar & Kitchen. Choose from an extensive list of timeless spirits, wines and our signature cocktails, inspired by some of the most influential Cambridge Fellows. Indulge in the sweet notes of honey-infused vermouth with "Life on Earth," inspired by biologist and natural historian Sir David Attenborough. Or, pay homage to globally known theoretical physicist Stephen Hawking with a whiskey-based drink topped with sweet honey foam, "History of Time''.
Many signature cocktails, timeless spirits and wines are available to ensure our guests find the perfect drink to celebrate any special occasion, be it a romantic anniversary dinner or a special outing to mark important milestones in life. 
Unique Dining Experience in Cambridge City
Alongside the delicious food and signature drinks, the inspiring atmosphere at The Folio Bar & Kitchen will be sure to provide you with a unique fine dining experience. Our restaurant and bar areas are adorned with captivating art honouring notable fellows from Cambridge University. One standout piece is a gallery wall displaying Xu Zhimo's renowned poem 'Taking Leave of Cambridge Again', which provides our guests with an immersive way to experience the city's unique academic heritage, all while indulging in delicious meals magnificently prepared by our chefs.
British classics with a twist
British Classics with many creative twists that will leave you pleasantly surprised are available on our menu. Such dinner mains as The Fellows Beef Burger, cooked using the quality Aberdeen Angus beef, topped with tangy cheddar, fresh lettuce, tomato and is brought up a notch by the rich and earthy truffle mayonnaise. All other main items from The Folio's grill are made with the freshest ingredients, as well as incredibly high-quality standards, that our chefs have set for everything they masterfully create in the kitchen.
The blend of British heritage and contemporary ideas allow our chefs to infuse familiar dishes with new vibrant flavours. We strive to use the freshest local ingredients, sticking to what is available seasonally wherever possible – all to provide the best quality to all of our guests.
End the week with a Sunday roast
Traditional British dinner – Sunday roast, is also available in our luxury restaurant on Sundays. Ingredients of the highest quality allow us to present you with food you will not be able to get enough of. Paying homage to such a British classic, we still manage to prepare it in a way that leaves our guests in awe of the creativity and skill our chefs put out.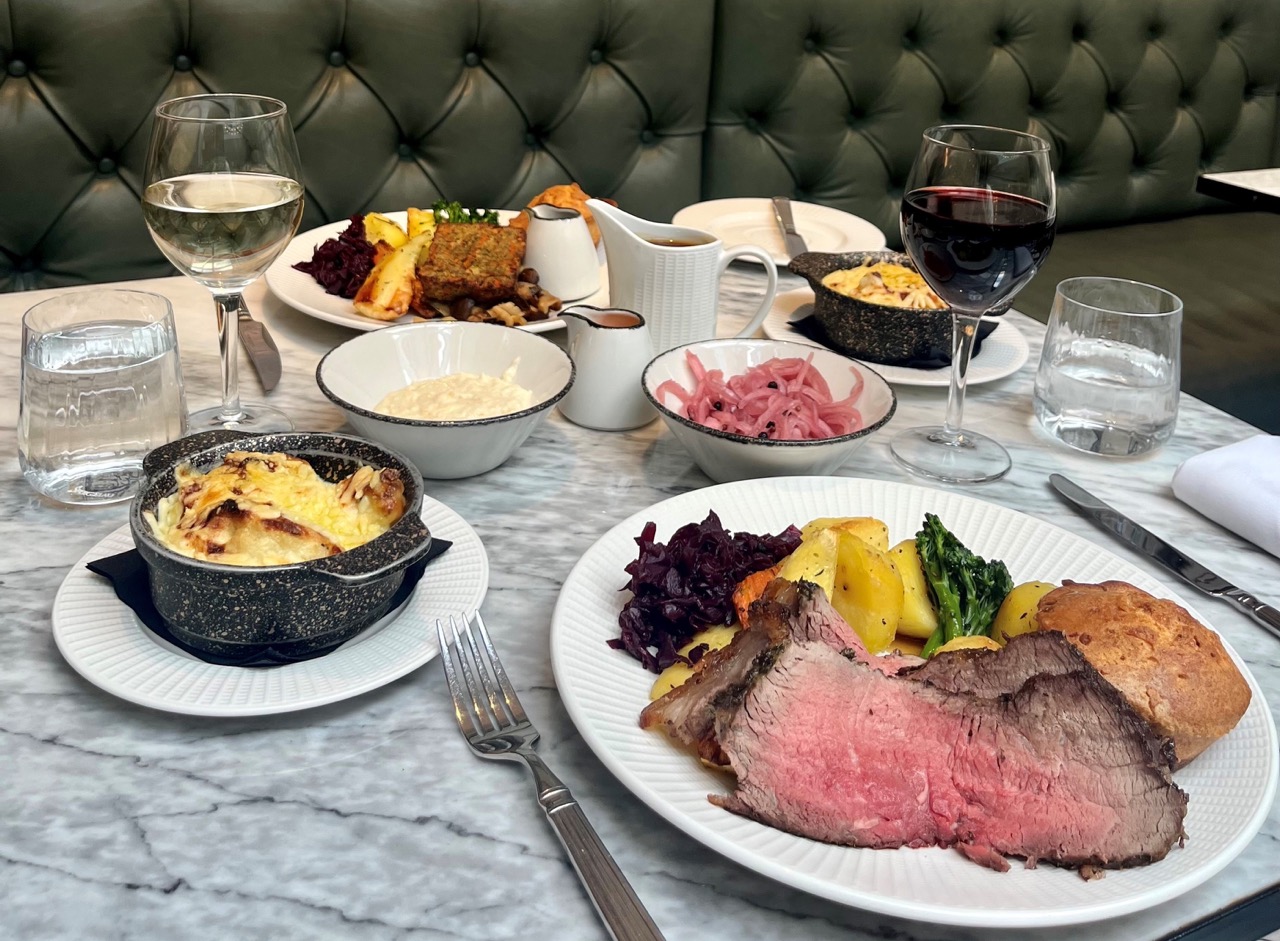 Private dining at the
Stephen Hawking Suite
Have a private dinner or occasion in our private dining room while enjoying the fine dining experience The Folio Bar & Kitchen has to offer.
To learn more about private dining at the Stephen Hawking Suite email [email protected].com